Welcome. You've come to the right place to learn how to recycle small appliances such as Coffee Makers so they don't end up in landfill.
In this post, we will be looking at the benefits of recycling your old appliances. We will also be looking at where and how to recycle small appliances such as coffee makers.
In the last post we looked at how to successfully recycle used electronics and even make money!
Small Appliances are not Biodegradable!
Yes they are not! My fear is small appliances are not biodegradable so when placed in the garbage which happens often times, they end up in landfill where they rust and release toxic waste to our environment!
What does the term "biodegradable" mean?
"Biodegradable" applies to something that is not capable of breaking down completely and decomposing into natural elements within a short time after they are thrown out.
Examples of Small Household Appliances
Electronics such as printers and computers can be recycled at participating stores or can even be recycled at your local household hazardous waste drop-off facility for free but what about small appliances? That's why I have written this post on how to recycle your small appliances!
Do not place small appliances in your recycling bin!
Small appliances should not be placed in the recycling bin and must be recycled properly. This can contaminate the recycling stream. You can check to see if your recycling program accepts it.
Unless your local recycling program specifically says it "accepts" appliances, do not put them in your recycling bin. On the other hand, many communities offer bulky waste collection as a separate service, and appliances of all sizes are often included.
Contact your solid waste hauler
Call your local solid waste hauler or look up the contact for waste and recycling in your municipality and find out what items they take and schedule a pick-up
Large appliances on the other hand including freezers, dishwashers stoves are easily recycled. My only advice for you is to follow your city's guidelines. If they are still in good working condition local charities like Habitat for Humanity will be happy to take them. A lot of cities also have pick up service for large appliances. You may have to contact them to schedule a pick day and time.
Why Should You Recycle Small Appliances?
On average 75% of the weight of a typical household appliance comes from steel. Copper is also a valuable material that can be found in the power cords of electronics.
In 2017, EPA estimated that the generation of small appliances was about 2.1 million tons. After magnetic separation, a small amount of ferrous metals in small appliances was recycled.
EPA estimated that of the 2.1 million tons of small appliance waste generated, only about 6 percent was recycled. A small proportion of small appliances were combusted for energy recovery (18 percent), while the majority (76 percent) were landfilled.
How Exactly Do You Recycle Small Appliances?
We probably can't do without certain small appliances these days especially toasters, coffee brewers, blenders to mention a few. Small appliances are cute to have but do you really need that many?
Before you think of recycling your small appliances, prolong their life! What you can do is give them to someone who needs them if they are still working. The important thing is trying to hold onto these appliances for as long as we can and ensuring they don't end up in landfill once they reach the end of their lives.
If your old appliances are not donated or recycled they can cause clutter or waste that can be harmful to our environment.
Another way to recycle your old appliance is to see if the manufacturer of the product will take them back for recycling. Contact them and ask. You never know what their response would be.
Now lets look at ways to get rid of old appliances.
Ways To Get Rid of Your Old Appliances
1. Repair
Small appliances are built to last long, especially if you buy one of great quality. Look up appliance repair stores near you and see if they can help fix your broken appliances.
Once you've fixed your appliance, you just might realize you don't need to get rid of it anymore and if you're still thinking of changing it and getting something better, simply pass it on to someone else who needs it.
2. Contact The Manufacturer of Your Small Appliance
Yes! Contact the manufacturer of your small appliance and see if they will take your old appliances back for recycling.
Hamilton Beach
Hamilton Beach manufactures small appliances including electric kettles, rice cookers, toaster ovens, grinder, food processor to mention a few. This manufacturer will take back your broken Hamilton Beach appliances for recycling! Simply mail it to the address on their website. Note that you would need to pay for postage though, although there is no charge for recycling. Here is their recycling policy and full address. You might want to buy Hamilton Beach products next time, knowing their appliances can be recycled!
3. Contact your Municipality
One thing you can do is contact your county or town and see if there is a recycling program for the item you want to recycle. Sometimes they might pick up for free or they may ask for a fee.
Some cities have recycling facilities that will accept appliances like toasters and coffee makers. Contact your city or look it up on google to see if you live around such a facility.
4. Sell Them and Make Money
Yes! You read that correctly. If your appliances are still working, you can make some money by selling them on platforms like Facebook Marketplace or Craigslist.
Now what do you do if the appliances aren't working? Appliances that no longer work can be used for scrap metal. The casing of old appliances can be reused.
Majority of small appliances have some metal such as steel. This means they have useful materials and shouldn't be thrown in the garbage! Instead, sell them or donate to a scrap metal company; they'll strip them apart and recover recyclables including plastic, metal and glass. These recovered materials can be used to manufacture new products. They are also a great asset for the construction companies since they can repurpose them.
5. Donate to Charity or Give it Away
If your old appliance still works, another option is to donate them to a charitable organization like Salvation Army. Another option is to give it away for free on freecycle.org. At freecycle.org people give away things for free in their towns and neighborhoods. It's all about reuse and keeping good items out of landfills.
6. Recycling Database
A helpful tool is earth911 recycling database that helps you find a recycling location near you based on the item you need to recycle. Simply enter the name of the item you wish to recycle and your postcode, then click search. It will bring up the results of companies that take items you wish to recycle.
7. A Junk Hauler Can Help You
If you've tried all options and nothing seems to work, there are junk haulers who will be happy to help you. They'll take away your appliances and any other items you want to get rid off. Just ensure you ask if the items will be recycled or end up in landfill.
8. Some Companies Will Come Pick it Up
Some companies are able to pick your broken appliances especially coffee makers from your home. I think this is great but just make sure you ask them if it will be recycled.
9. Check and See If Materials Can be Placed in the Metal Recycling Bin
If your appliance is made mainly of metal, especially if you have items like beaters from your mixer and mixing bowls, you can check with the local recycling company near you and see if you can place them in the metal recycling bin (This depends on where you live).
Other Recycling Options
1. Staples
Good news! If you have a coffee brewer less than 40 pounds, Staples will recycle it for free! This is stated clearly on their site and you can also have a look at list of acceptable items. On the other hand items like Kitchen electronics and televisions are not accepted.
2. Your Local Goodwill Store
Some Goodwill stores will take your small appliances including coffee maker. I would advice you give them a call or even email them before going.
For those in USA, you can visit their site here: https://www.goodwill.org/
For those in Canada, visit their website here: https://goodwillindustries.ca/
Did you know that Goodwill is a big recycler when it comes to electronic waste or ewaste? Yes! I once thought they were just a thrift store until I did a bit of research and discovered they actually are but way more than just a thrift store! Now here's how Goodwill helps recycle Electronic waste – they have a deal with Dell! Dell is a long term partner of the Goodwill Enterprise.
Goodwill collects ewaste for Dell to recycle! Of course if you have some items to donate they will happily take that as well. Donating items is a wonderful way of helping others in your community. It may just be time for you to declutter!
Before you go, you might want to give them a call to confirm they are taking items at this time because of the corona virus pandemic.
3. Best Buy
Best Buy also has a recycling program as you may already know. They stated clearly on their website materials they accept but sadly their list does not include small appliances. Hopefully in future they will be able to help recycle small appliances!
Reuse is an Option
If you can't repair your broken small appliance, you can reuse them in numerous ways. The ceramic pot from your Crockpot can be reused in many ways including using them as storage containers.
You can get creative and see how you can reuse your non-working small appliances in your home.
Notable Small Appliance Recyclers in USA
1. Total Reclaim
According to their website, Total Reclaim recycles hard to handle materials. Total Reclaim recycles small and large appliances among other items.
If you live in Seattle, Oregon or Alaska you would be able to recycle your small appliances with them.
2. Anything with a Plug
Located in Raleigh, California. They have stated clearly on their site that they do take Kitchen appliances (small and large). If you live around them or know someone who needs this information, please pass it on to them.

source: https://www.anythingwithaplugrecycling.com/
Notable Small Appliance Recyclers in Canada
1. Electrorecycle
Electrorecycle accepts over 400 types of small appliances and power tools for recycling at select depots in British Columbia! They're cool like that in BC I guess! They have over 200 free drop off locations in British Columbia!
So if you have friends or family who live in that Province, please let them know. You can use their recycling locator to find one near you.
Here is an image of Eelctrorecycle's recycling process: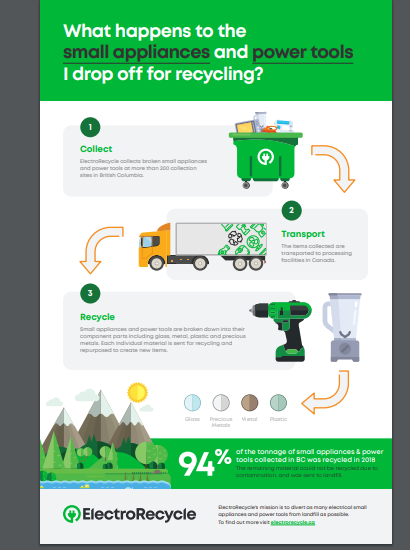 source: https://www.electrorecycle.ca/app/uploads/2020/03/ER_RecyclingInfographic_%C6%92-WEB_compressed.pdf
2. London Drugs
London Drugs in Saskatchewan will recycle any dead small appliance with a plug through the Small Appliance Recycling Program. They all stated on their site that electronics are disassembled in Canada and they ensure the appliances are recycled responsibly. If you live in Saskatchewan you can recycle your small appliance with London Drugs.
Conclusion
I hope you enjoyed reading my post on how to recycle small appliances such as coffee makers. Recycling small appliances is a great way to ensure they don't end up in landfill.
We have the opportunity of creating a sustainable environment if we recycle appliances the right way. This will also benefit individuals and even organizations.
Instead of throwing out appliances, we can get rid of them in simple ways – by passing them on to someone who needs them, simply donating to charity or even donating them for scrap metal, if they are no longer working.
Small appliances are built to last long, especially if you buy one of great quality. When its time to upgrade, ensure you buy quality appliances you really need. Consider secondhand first and if you are buying new, buy one of great quality that would last several years, especially if you take good care of them.
It really is up to all of us to decide the type of world we will leave behind for our children and grandchildren and recycling small appliances is a great place to start!
I hope you found this post helpful and if you have questions about recycling small appliances or you just want to leave a comment. Please leave them below.
If you know any other recycler that accepts small appliances like the ones listed above and recycles them responsibly please leave their details below and I'll add them to the list.