5 Best Subscription Boxes for Dads That Are Eco-friendly
In this post we will discuss the best subscription boxes for dads! Our focus is on ecofriendly subscription boxes so that we can continue to take steps to protect our environment for ourselves and future generations.
Father's day is only a few weeks away and if you are looking for the best subscription boxes for dad that are ecofriendly, you've come to the right place!
Subscription boxes are nice as you can easily select a box according to the recipients personal preferences. These boxes are themed and this is what drives excellent relationship between the brand which also brings about customer loyalty.
They are also filled with surprises which is one of the reasons people sign up. Now that Father's day is fast approaching there are awesome gifts for dads that you can choose from.
Now lets look at the best ecofriendly subscription boxes for dads or the father figures in your life!
Disclosure: Please note that some links below are affiliate links and I'll earn a commission at no additional cost to you. When you use one of my affiliate links, I get compensated. This helps me run my blog and keep all of my content free of charge for you.
5 Best Subscription Boxes for Dads
This brand believes in reducing plastic usage in your daily routine and their goal is to help you start your journey to living a zero waste life.
Their subscription box comes with biodegradable items that will not cause harm to the environment. If your dad is the type that wants to slowly bring in ecofriendly items into your home, this subscription box will make it easy for him to do just that!
Kiwi Eco Subscription has got your back as you can expect useful items for food storage, cleaning, travelling and also personal care such as bamboo toothbrush. Each box comes with 5 to 6 items your dad will love!
Quality is everything and these organic seeds will make a great gift for dad. You can get top quality seeds for dad's garden from the Urban Organic Gardener.
Urban organic gardener packages come with clear instructions to guide you in the planting process, seed starting supplies and what dad gets is also customized to your own garden, location, characteristics and preferences.
If the father figure in your life is an aspiring environmental activist, then this subscription box is just what they need! They can learn more about environmental issues facing us today!
There's no need to do research on your own; you don't have to try and figure out how to live an eco conscious life because this Planet Post subscription has done all the homework for your dad!
This box is packed with eco conscious goodies that can help you reduce the amount of waste you generate.
What's also great is that a percentage of the proceeds from every Planet Post box is donated to an environmental not for profit working on that particular month's mission! No wonder this box made it to our list of best subscription boxes for dads!
Yes they have clothes for men too! If you are looking for quality, secondhand one-of-a-kind styles, this is what you need and no wonder it has so many reviews!
A Curated Thrift brand makes sure to select clothing that fits dad's style, body shape and personality. You would need to fill a survey so that they know exactly what you would like.
You can choose from three options: my thrift box which gives you two secondhand pieces, my deluxe box gets you four secondhand pieces and my vintage box includes one unique vintage piece.
You get dad something that will last long and you also save our planet by buying secondhand. Its a win win!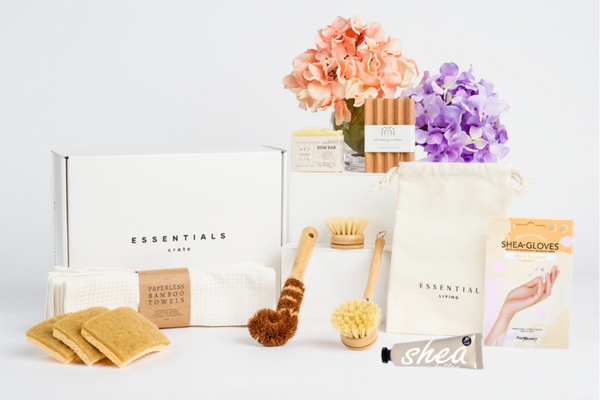 Essentials Crate as the name implies will only send you items you actually need for personal use and even for your home. They will send you 3 to 5 premium, full sized ecofriendly products that come in ecofriendly packaging.
Their products range from zero waste alternatives to kitchen gadgets and utensils, cleaning, skincare products and tools and also personal hygiene.
Conclusion
These are the best subscription boxes for dads! If you are looking for even more options, here are 21 eco friendly subscription box brands you need to check out. These ecofriendly boxes will make great gifts for father's day and even for all occasions all year round!
We normally choose subscription boxes because they are customized for a particular person so that it fulfils what that person really needs.
Subscription boxes are selected based on different factors including cost, lifestyle or even taste. Ecofriendly subscription boxes are full of unique items that you may never have tried before so its an opportunity to discover something that could be lifechanging.
I hope you found this post helpful. If you have any comments, please leave them below.
This post contains affiliate links which means that I may receive a commission at no extra cost to you. However, this does not influence my evaluations. It is my intention to explain products so you can make an informed decision on which ones suit your needs best.