If you are looking for an Eco-friendly subscription box that's always filled with unique and environmentally friendly gifts you've come to the right place. Simply consider sending that special someone a lovely box from Earthlove!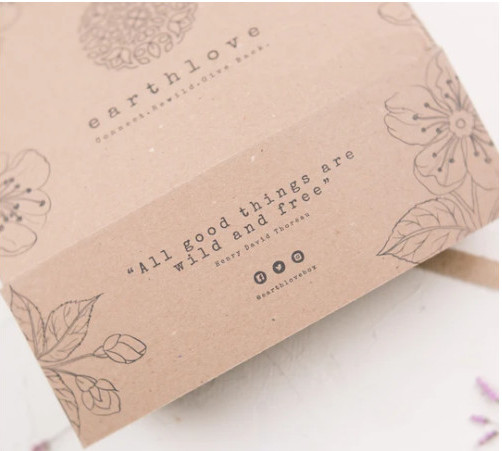 credit: Earthlove
What is Earthlove?
Earthlove is a quarterly seasonal lifestyle subscription box for leading a more earth-centered life. The Earthlove box is filled with eco-conscious full sized gifts that promote healthy living.
The wonderful thing about Earthlove is that you can choose between a Beegan box or a Vegan one for the same cost!
The Beegan option is great if you consume honey and other insect derived products.
Earthlove boxes are packed with wonderful Eco friendly products including teas, healthy snacks, home decor, beauty, apothecary, aromatherapy, gardening, outdoor, wellness, apparel, wild crafting and more.
Products are Sourced from Artisans and Small Businesses
These products are primarily sourced from artisans and small businesses in the United States and Canada. The artisans and small businesses are carefully and critically examined just to ensure they follow fair trade souring and manufacturing procedures.
Earthlove also supports sustainability initiatives around the globe. Initiatives they have supported in the past was The Denim Project. This project helped fight fast fashion in Guatemala.
Their products are environmentally friendly including fair-trade, organic and non GMO, zero waste packaging, natural ingredients, vegan/beegan.
It is also interesting to know that Earthlove supports environmental causes in an effort to protect our natural ecosystems. Their boxes and sustainable packaging materials are 100% biodegradable and are made with algae-based inks meaning the packaging materials will not harm our planet.
Why We Love Earthlove
Ecofriendly Products
Earthlove products are eco-friendly, they are beegan/vegan, organic, made of natural ingredients, non-GMO, fair trade and cruelty-free.
Carbon Neutral Shipping
Yes! That's true. Earthlove offers carbon neutral shipping on all orders! You just need to pay an extra dollar that way you offset the carbon on your box. Now Earthlove has also made it easy for you to see carbon projects closest to you; this can be seen on the cloverly link located on the checkout page when you're ordering.
Shipping to U.S and Canada is a breeze
Shipping within the United States is $4.95. Wondering if they ship to Canada? Wonder no more because they do! It costs $20USD to ship to Canada but note that all goods are also subject to a 5% GST tax plus possibly custom charges depending on the province. They also ship worldwide for $35.
Every Box is Filled with Awesome Goodness
Normally the unique products you receive in a box come as a wonderful surprise because they are not revealed until the box is delivered and you open it to see. However Earhlove gives you an idea of what will be in the next box only on their social media channels!
Earthlove Supports Environmental causes
Every box supports a different environmental cause each season. Earthlove partners with a non-profit that works to conserve, restore and protect the earth. Some non-profits they've partnered with include Coral Reef Alliance, Boreal Songbird Initiative, Naturebridge and more.
Your Products can be featured in their boxes
If your company cares about sustainability and shares the same values with Earthlove, your products can make it right into their boxes as long as your products are Beegan, Fair trade, Organic and sustainably harvested, gluten free, non-GMO and zero waste.
Corporate Gifting
If you are also looking for a corporate gift for your staff, Earthlove provides this service as well! They can create the gift that's just right for any occasion.
Each box carries high quality Eco-friendly items that are beegan/vegan, organic, all-natural, cruelty-free and gluten-free.
There's a minimum order of 10 boxes. You can decide on one time gift boxes or quarterly or annual subscriptions and each box supports a different environmental cause every season.
Where to Buy Earthlove Boxes
You can get Earthlove boxes online from Cratejoy.
Cratejoy carries several types of boxes from beauty, to snacks, kids craft, books, games, toys and so much more! You can also buy directly from Earthlove.
How Much Do The Boxes Cost?
The boxes are $59.95 quarterly and a box is shipped every quarter (March, June, September and December). You can subscribe annually or quarterly.
Can You Build Your Own Box?
Yes! Earthlove has made it possible for you to do just that! You can decide to pick a couple of items from their site, replenish items from past boxes you have tried and you can simply build your very own box!
Conclusion
Earthlove is a seasonal subscription box filled with Eco conscious goodies! If you are not sure of what gift to present to that special someone or maybe that person is just the picky type or it could be that you're just looking for something unique, this eco-friendly subscription box, Earthlove will do the magic!
Their gifts are eco-friendly, ethically sourced and they come in biodegradable packaging. Also, you can decide to cancel at anytime! If you are a business owner and are at the fore front of the Eco-conscious movement contact Earthlove and they will be happy to work with you.
Have you tried an eco-friendly subscription box like Earthlove or are you just finding out about them? Leave your comments below.