Best Eco-Friendly Subscription Box Brands
Welcome to our post about best eco-friendly subscription box brands! Environmental management is all about looking for ways we can live more sustainably.
Now this does not mean you and I have to deprive ourselves of those things we really need but it simply means being aware of what we consume and taking a conscious approach to generating less or no waste.
If you are looking for a way to live a natural and environmentally friendly life or you are simply looking for eco-friendly products that are safe for you, your family, friends or colleagues, there's an eco-friendly subscription box brand for you right here!
A great benefit of eco-friendly subscription boxes is the fun factor because there's something great to look forward to! More on this later!
Eco friendly subscription boxes also make great gifts at Christmas, Easter, Birthdays, Thanksgiving, Weddings and so on!
Disclosure: Please note that some links below are affiliate links and I'll earn a commission at no additional cost to you. When you use one of my affiliate links, I get compensated. This helps me run my blog and keep all of my content free of charge for you.
21 Best Eco-Friendly Subscription Box Brands
Here are the best eco friendly subscription boxes that also give back! Whether you're looking for subscription boxes for an environmental advocate, a music lover, used books, gently used clothing, home, crafts and stem learning for kids, beauty and so much more, you'll find one that suits you here!
Kids love wonderful surprises so why not boost your child's confidence with a Green Kid Crafts discovery box packed with 6 gifts that are engaging and unique.
Green Kid Craft company is Green America approved and also a member of 1% for the planet. Each month, Green Kid Crafts keep children happy and engaged by making available eco-friendly craft and STEM activities for kids.
Why we love Green Kid Craft:
There's always a new theme every month. In the past, themes have included Outer Space, Mad Scientist, Around The World and more.
The Green Kid Craft company has won several awards including Dr. Toy's Best Green Products, Academics Brain Toy Award, PTPA Seal of Approval, Red Tricycle's Award for Most Awesome Subscription Service.
Shipping is available within the United States, Canada, Ireland, United Kingdom, New Zealand, Australia and Japan. They deliver right to your door through their subscription program.
2. Earthlove
Earthlove is a lifestyle subscription box packed with eco-conscious goods to cultivate an earth – centered life. Subscription boxes are seasonal and are available in the Fall, Winter, Spring and Summer.
What You Can Expect in Earthlove Box:
Some categories of items you can find in their boxes include teas, healthy snacks, home decor, books, wellness, beauty, accessories and more!
Why we love Earthlove:
Earthlove believes in earth conservation and natural ecosystems protection and a different environmental cause is supported each season.
Earthlove products are sourced in an environmentally responsible manner, they source products that contain natural ingredients and they also support artisans and small businesses in the United States and Canada.
They ship worldwide from the United States.
The Butter Box is a subscription box that believes products should be free of chemicals. Their high quality bath and body products are 100% natural with wonderful scents.
Why we love Butter Box:
They give back by bringing water to children in Ghana and with every purchase they donate to Water 4 Youths, an organization that provides drinking water to kids in Ghana.
They offer free shipping. and there's also discounts on one time purchases for subscribers.
You want the best nontoxic supplies for your home and Ecocentric Mom provides just what you need! They would have healthy products for you and your family delivered to your door monthly.
Why we love Ecocentric Mom
What's also cool is that they offer month to month subscriptions for mothers and babies up until the age of 4.
They also have single gift boxes for women who are ready to try healthier and cleaner products.
They ship to the United States and Canada.
Magic Room Brand  is all about providing ecofriendly accessories for guitars, drums and more!
Why we love Magic Room Brand:
Their durable drumsticks and guitar picks are made of biodegradable bamboo grass. These come in reusable boxes and bamboo bags!
As a subscriber you also get access to monthly special playlist on spotify.
They ship worldwide from the United States of America
Having a hard time reducing the amount of plastic you generate? GreenUP Box  will take care of that through their subscription boxes and also through a plan referred to as plastic rehab.
This consists of 6 boxes all based around 6 major themes which make it easier for you to redesign your life without plastic.
Turn your 'new normal' work week into a plastic-free work of art. Reduce your plastic footprint one daily grind at a time!
What You Can Expect in a Box:
Silicone ziplock bag
Bamboo and glass reusable hand sanitizer bottle
Stainless steel tea strainer
Stainless steel lunch box, two-tiers and leakproof
Bamboo utensil set with straw and cleaning brush in a cotton canvas case
Why We Love GreenUp:
This eco-minded subscription box company gives 3% to partner organizations for plastic cleanup in our oceans. No wonder it made it to our list of best eco-friendly subscription box brands!
Shipping: They only ship within the United States

LOVE GOODLY  is another company that always supports great causes including Farm Sanctuary. Love Goodly helps improve your lifestyle with natural and eco products.

Why we love Love Goodly:
Every other month, you would receive toxin free, cruelty-free vegan products including healthy snacks, eco style accessories and wellness products.

Shipping: They ship within the United States and Canada.
8. Mighty Nest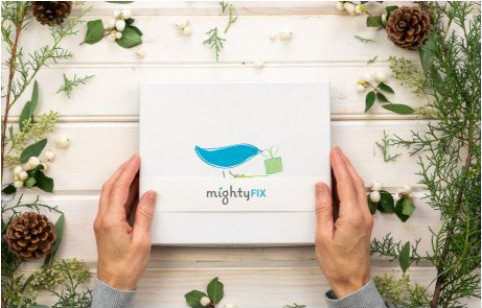 source: mightynest.com
Looking for a great way to lead a more sustainable and healthy lifestyle, by only introducing one change at a time without feeling too overwhelmed? Mighty Nest's got you covered!
Why we love Might Nest:
They are a subscription service that are passionate about making green living easy. Mighty Nest will send you a healthy eco friendly product monthly. This way you are able to take one step at a time by making greener, healthier lifestyle choices.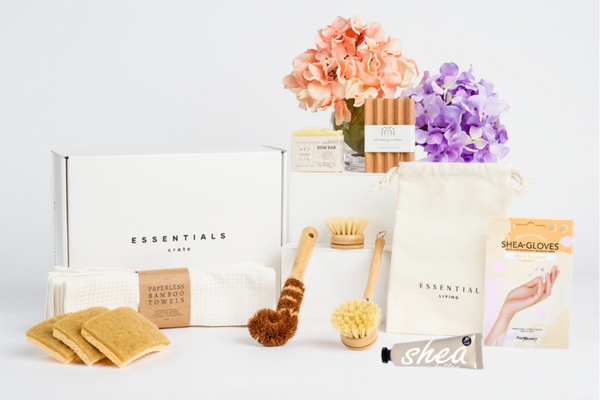 Essentials crate  subscription boxes company will provide you and your family with household products you  will actually use.
They are committed to providing you with products that are of high quality and they are committed to ensuring their business operations does not impact the environment in a negative way. They make use of safe, organic plant based ingredients that protect you and your family from harm.
Their products come in ecofriendly packaging, they are recyclable and one other thing I like about them is that you can easily offset your carbon footprint by using their carbon neutral shipping!
They also donate a portion of their profits to a new non profit organization every quarter.
Shipping: They only ship within the United States.
Know a busy activist? Planet Post Planet Post has made it easy for you to stay informed and involved about environmental issues and sustainability and also to be an advocate easily.
What You Can Expect in the Planet Post Subscription Box:
3 to 4 eco-conscious products
Information about a particular environmental issue
10 postcards and stamps
Easy to understand infographics about the topic of the month
Some green goodies
Links to research and videos
Why we love Planet Post:
The Planet Post Subscription Box comes with a topic card packed with helpful information and very easy to follow notes which tells you a bit more about the topic of the month, its importance and how you can help make a positive impact.
Shipping is only within the United States. First box ships within 5 days. You can also order as a gift and a complimentary note will be added!
Merkaela's seasonal subscription boxes makes self-care and wellness easy to experience. They offer all natural and organic products that are chemical – free!
Their boxes come with 6 to 8 wellness and self care products and there are 3 subscription options you can choose from including Deluxe, Soap and Essential.
What You Can Expect in a Box:
Handcrafted soap, bath salts
Loose leaf teas
Body butter
Meditations and more!
Why we Love Merkaela
Most of Merkaela-branded products are hand made and they are made in Orlando, FL! Other products featured in the box are sourced from ethical producers and suppliers in the United States.
Merkaela's botanical products are made using toxic-free, butters, natural herbs, nutrient-rich essential oils, and other natural ingredients meant to nourish the mind and body.
Their products are packaged in recycled glass jars with recycled metal lids. Their bottles are recyclable and you are encouraged to reuse them. All of their packaging is recyclable.
Shipping: Ships within the United States and Canada. Yes! Merkaela Ships right to your door quarterly. Note that shipping to Hawaii and Alaska is $10 to cover extra shipping costs while shipping to Canada is $20 to cover extra shipping costs.
Used Books Monthly is an awesome subscription company that believes books in good condition should never be tossed out but instead books should be circulated! Books are selected for you based on your reading preferences.
Choose from 1 book, 2 books or 4 books at a time!
Why we love Used Books Monthly:
They select best quality books for you and you can keep the books after reading!
Shipping is included in the price
13. Succulent Lovers
Plants are beneficial to us and our environment and this is what this company succulent lovers knows how to do best. They will send you different types of plants monthly. The plants will be sent in a glass, ceramic or concrete planter; don't worry they are experts at what they do so the plants are always neatly packaged.
You will receive at least three succulents in a planter monthly but note that you can cancel subscription at anytime.
14. BloomsyBox
BloomsyBox is a subscription service that sends subscribers fresh, beautiful handpicked bouquet monthly. Flowers are handpicked and are sent from sustainable farms around the world.
There are 4 subscription options – small, medium, large, weekly
Why we love Bloomsybox:

Flowers are from sustainable farms.
Shipping: They ship for free and shipping is weekly, biweekly or monthly
15. AM Soaps Sustainable Products
This subscription box from AM Soaps Sustainable Products contains wonderful vegan eco care items. All of their products are 100% natural, plastic free, vegan, and cruelty-free.
There are 2 subscription options: Bath and Kitchen box and Kitchen Only box
What You Can Expect in AM Soap Box:
Bath & Kitchen Subscription box:
1 Vegan Bar Soap (for your Hands and Body) 5 oz
1 Vegan Natural Deodorant 2 oz
1 Vegan Facial Soap 2 0z
1 Vegan Solid Shampoo Bar 5.5 0z
1 Vegan Solid Dish Soap Bar 5.5 0z
Kitchen Only Subscription box:
1 solid dish soap
2 Eco surprises monthly including natural Aluminum free vegan deodorant with 6 fragrances you can choose from.
AM Soaps Sustainable Products can also substitute products if you want them to!
Why We Love AM Soaps:
Their products are vegan and ecofriendly.
Shipping is free within the United States and Canada and they also pay a carbon levy on all boxes shipped.
16. 3BirdsSoap
3BirdsSoap  is another eco-friendly subscription service whereby an Artisan Debra Glaze in New York City Soaps are made with natural ingredients and beautiful colors. The soaps are made from scratch in small batches. Themed boxes are a special surprise you can expect monthly!
In each box there are 2 to 9 full-size products.
What You Can Expect in a Box:
All boxes include their specialty homemade natural soap.
You can also expect to find some of these:
Artisinal Shampoo bars
Food based lip balms
Handmade candles
Bath bombs
Lotions
Why We Love 3Birds:
3BirdsSoap supports causes like animal rescue and sheabutter is sourced from a woman's collective in Africa.
Shipping is free within the United States and they also ship worldwide!
17. A Curated Thrift
A Curated Thrift A curated thrift awesome clothing subscription box sends beautiful, stylish second hand fashion and vintage to you! All outfits are washed and sanitized.
There are 3 subscription types to choose from including: My Vintage Box, My Thrift Box and My Deluxe. To A Curated Thrift order, you pick a box type and fill out a quick survey. The survey will help them analyze, shop and curate your look.
What You Can Expect in the Box:
Depending on the type of subscription you choose, here's what you can expect:
My Vintage Box: a unique vintage piece
My Deluxe box: 4 curated secondhand pieces
My Thrift Box: 2 curated secondhand pieces
Why We Love A Curated Thrift:
Second hand fashion. They ensure all clothing sent to you are stylish and presented beautifully.
Shipping: First box ships in week! A Curated Box ships worldwide from the United States.
18. Habitation Box
Habitation Box  will send you beautiful, trending items for your home every month. Their eco-friendly products are either handmade or sourced from small businesses. They also feature items that incorporate re-used materials from businesses that donate profits to the needy around the world.
Each box makes a great gift for housewarming, weddings or a gift for a client.
There are 2 types of subscriptions you can choose from:
Habitation I – comes with 3 to 5 items
Habitation II – comes with 6 to 8 items
What You Can Expect In a Box:
Home decor and accessories including but not limited to:
Candles
Hand towels
Seasonal holiday pieces for Thanksgiving, Christmas and Easter
Versatile decor and more
Why We Love Habitation Subscription Box:
Their products are eco-friendly, they are handmade or sourced from small businesses.
Ships on the 4th of the month. They ship globally from the United States.
19. Crunchy Mama Box
Crunchy Mama Box is a subscription service that helps your family live a more healthy and natural life. You and your family get to try new things every month! Crunchymama will send sustainable, self-care, support, education and wellness to your home monthly!
Their boxes contain 5 to 8 full size eco-friendly products. Products are natural and organic.
What You Can Expect In The Box:
Why We Love Crunchymama:
Products in their boxes are made by women owned, eco-friendly businesses that make healthy products.
Shipping: They ship worldwide. Crunchymama ships from the United States and shipping within the United States is free.
20. Healthy Home-Care Subscription Box
Healthy Home Care Subscription Box are a zero waste and toxic free service that will supply you and your household with all natural products free of chemicals. Their boxes come with all you need to maintain your home in a natural way.
So if you are the type that's always struggling with making all your products all by yourself just because you don't have the time, then this box is all yours!
What You Can Expect In the Box:
Natural dish washing sponge
Soap Nuts in Cotton Bag
Castile soap (Handmade from 100% Olive Oil)
Liquid Castile soap made of essential oil and natural ingredients (can be used as all-purpose cleaner, glass cleaner, bathroom and kitchen cleaner, hand soap, dish soap and even toilet bowl cleaner)
A surprise gift
21. Lovevery
Lovevery deliver awesome sustainable playkits for your kids at every stage from 0 to 36 months. You can easily subscribe to the play kits at the right stage for your baby and a wonderful subscription box will be sent every 2 to 3 months to you!
For example, they have a "looker play kit" for baby who is 0 to 12 weeks old, "the charmer play kit" for 3 to 4 month old baby, "the senser play kit" for 5 to 6 month old baby and so much more!
What we love about them:
The wood used to make the play kits are certified and from sustainable sources
Soft and Organic cotton fabrics
Baby safe toys because their products meet safety standards for babies and kids
Benefits of Ecofriendly Subscription Boxes
There's a lot of fun in receiving subscription boxes because there's always something wonderful to look forward to whether at the end of the month or every 2 to 3 months! Its like receiving your birthday present every month!
1. It is Convenient
People want to save time by just subscribing to something they need all the time and then spend more time taking care of other things. Also, by subscribing to a service, they have peace of mind knowing they'll never run out of those necessary things and they don't have to worry about forgetting to order.
2. You Save Money
Items normally cost more if purchased separately and that's why some people opt for subscription boxes. Also, subscription services always have good deals. For example Love Goodly company says their subscription boxes contains items that are up to $100+ retail value each month for about $35.
3. Items are Specially Picked
Yes! One cool thing we love about these subscription boxes is that, the items are specially picked for you. This also makes one feel "unique". The items are handpicked for you! So if you are the type that has a hard time finding what you need in the stores, rest assured subscription boxes got you covered!
4. Cancel Anytime
Now the eco-friendly subscription box brands I have explained here are great! You can decide to simply make a one time purchase, or be a subscriber and even cancel at anytime!
Conclusion
Eco friendly subscription box brands are unique in their own special way! Gifting eco-friendly subscription boxes are a fun way of giving meaningful and natural products to yourself, family or even a client while protecting the earth from harmful chemicals and products at the same time.
Most of these services mentioned here are contributing to great causes globally and you get to be a part of that by trying them out.
Seek all things health and wellness for your household. Subscription boxes are also a great way to learn about quality products you may have never heard about.
Eco friendly subscription boxes promote sustainable living!
What is your favorite eco-friendly subscription box? If you are just finding out about eco-friendly boxes for the first time, I would also love to hear from you. Please leave a comment.
Featured image by Kerstin Riemer from Pixabay