Now that Easter is drawing so close, we couldn't stop thinking of what more we could make. We already made our colored river rocks and now we decided to make a Pink Easter Bunny!
If you are thinking of making easy Easter bunny crafts you really should give this one a try.
 I picked out some old clothes and the kids selected the colors.
This Easter bunny was really easy to make and the most interesting part is that it was made by hand!
Here are things you need:
1. Old clothes – you probably have some clothes you don't need anymore.     Pick out the clothes you would need for this project.
2. Needle
3. Thread
4. Scissors
5. Marker
6. Stuffing – We shredded some clothes and pushed them into the bunny with a pen. You can pretty much use whatever you've got. If you have bamboo stuffing that works too.
Note – depending on the age of the kids you would be working with for this craft, you want to select the type of stuffing you would use for this craft carefully.
It is also advisable for an adult to do this project because of the sharp objects involved (needle and scissors) and if you are working with big kids or teenagers an adult supervision may be necessary.
Steps
1. Place any clothing on a flat surface. In this case, we used an old shirt. You may need to flatten it with an iron (adults should do this).
2. Use a marker to trace out the shape of a bunny. Remember – the wrong side of the clothing is the part you would be drawing on.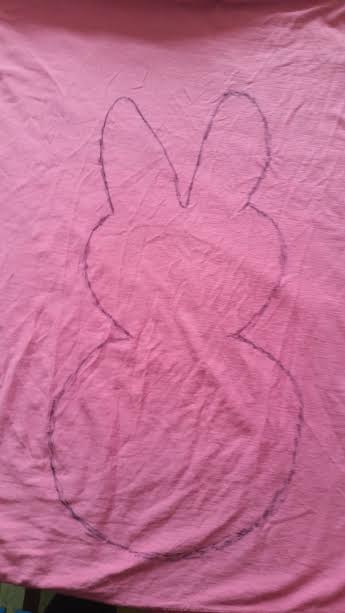 3.Cut out the drawing – do this gently whilst making sure you're cutting down all the way to the bottom layer of the cloth.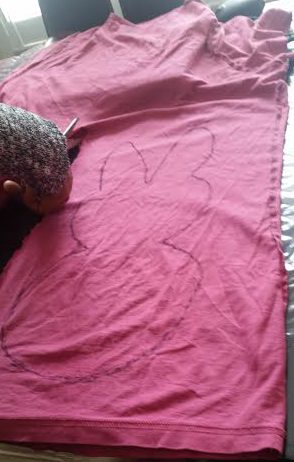 Sew all around by hand but leave a small opening on top so that you can stuff the bunny.
4. After sewing, turn the material to the right side and add any soft stuffing.
We shredded some clothes and used them as stuffing. Push the stuffing into the ears with a pen or a slim wooden spoon handle.
5. Give your bunny a face – nose, eyes, whiskers
You're probably wondering where I got this eye print below from. We have a cloth that has several eyes printed on it; so the kids suggested we cut them out and make use of them for this project. Cool right?
We also made the whiskers by cutting out a few pieces from a pair of jeans material. Feel free to use whatever you have.
6. Keep the bunny and you can also decide to make one for a friend or loved one!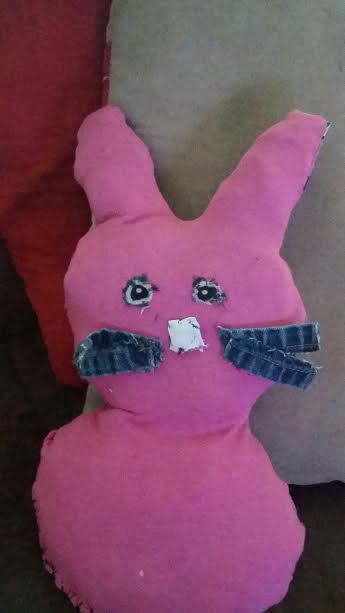 Please be careful when sewing with a needle.
This method of making a stuffed bunny is a fun way to reuse old clothes.
Hope you enjoyed this post. If there are other Easter craft ideas you would you also like to share, I'd love to hear from you. Thanks